Provide Exceptional Retail Experiences From One Trusted Source.
We've delved into every retail business to craft powerful and innovative software, capable of increasing your revenue and overall productivity. Your system is tailored to how you work, improving management and control in every sector.
Retail Run Down
Book free demo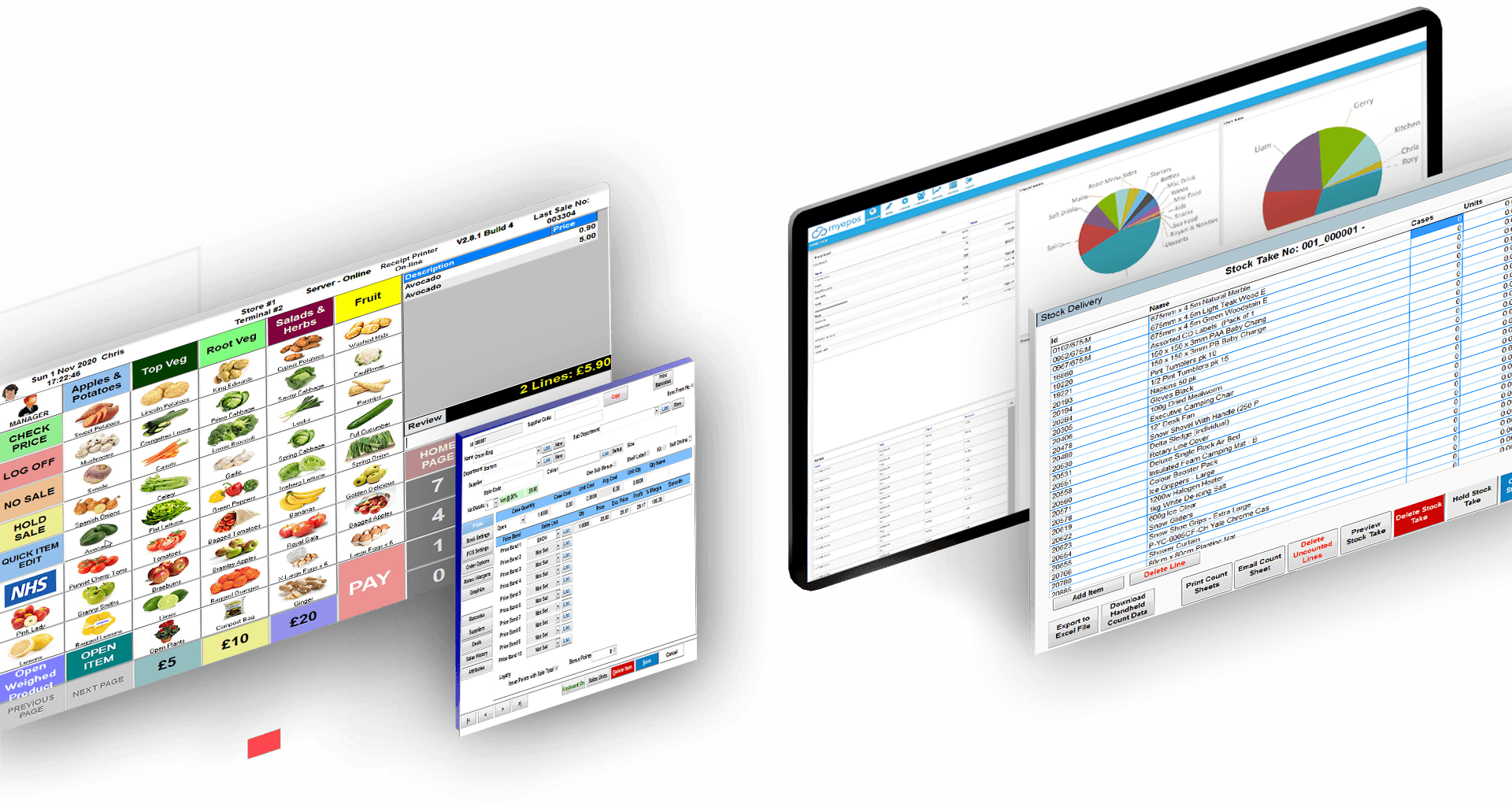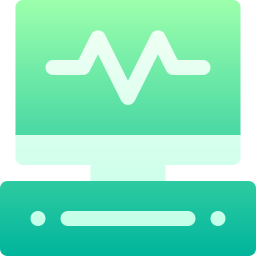 Powerful Software
myEPOS is fast, intuitive and reliable with all the features needed to succeed. Track almost anything, instantly and quickly. Report on staff, customers, sales, margins and stock with far more detail than your average till. Become seamless. Become secure.
Management + Control
myEPOS keeps all of your sales information to hand with a multitude of reports including Popular Lines, Full Stock Control, Promotions offered and their impact along with Staff Hours and full tracking of Inner and Outer Barcodes.
Insights + Tracking
Stock can be fully audited with records of units sold, busiest periods, best sellers, records of clerk sales, along with Purchase Dates and Costs and full waste tracking. Over 100 Reports are available including split shifts and full profit and loss.
Integrated Scales & Bespoke Barcodes
Scan Price embedded Barcodes and generate Barcodes specific to your stock lines. Integrate Meat Scales into your POS easily and fully track wastage.
Ongoing Support
Our Dealers are professionally trained and work together as a team of professionals to answer your questions and help you through the process. myEPOS is a true community and you will never feel alone as our personalised approach is unique to us and creates amazing results.
Built From Scratch
myEPOS was built from the ground up with your business in mind. We are a team of software developers with first hand experience in the retail trade and know the pain felt by many so built the system from scratch to make the most user friendly, painless solution on the market.
Handheld Stock HHT / Purchase Control
With myEPOS' HHT you can check stock levels with a remote terminal, build up Purchase Orders and produce Shelf edge labels on the fly. myEPOS is one of the few software platforms that allows you to track purchases along with sales. Create your Purchases, email purchase orders and fully track P&L
Maintenance & Updates
Software constantly evolves and with myEPOS you remain at the forefront of technology with regular updates made to the wide array of features ensuring you are always ahead of your competition. myEPOS handles promotional data more efficiently than most and allows deals to be focussed on any level of stock even to cases of products versus individual lines.
What's so good about myepos?
Ultimate control
Stock Control that does it for you
Holding excess stock is a retailer's nightmare, MyEPOS keeps it simple. Easily run stock reports and see just how much stock you are holding. You can then choose to run promotions or discount items to sell them. MyEPOS integrates with a handheld stock counter, to enable quick and easy stock take. Simply scan the barcode and enter how much you have in stock.
You can also set up different costs, prices and suppliers for each item ensuring your margins are accurate. Buy your teabags from Cash and carry for £1 some weeks or from your wholesale distributor for £2 the next week. MyEPOS knows how many units you brought at what cost, Meaning your profit reporting is truly accurate! You can also manage multiple barcodes for the same item, everyone in retail is familiar with Coke and Walkers changing their barcodes seemingly at random, myEPOS can store all the barcodes under the one product making reporting even easier!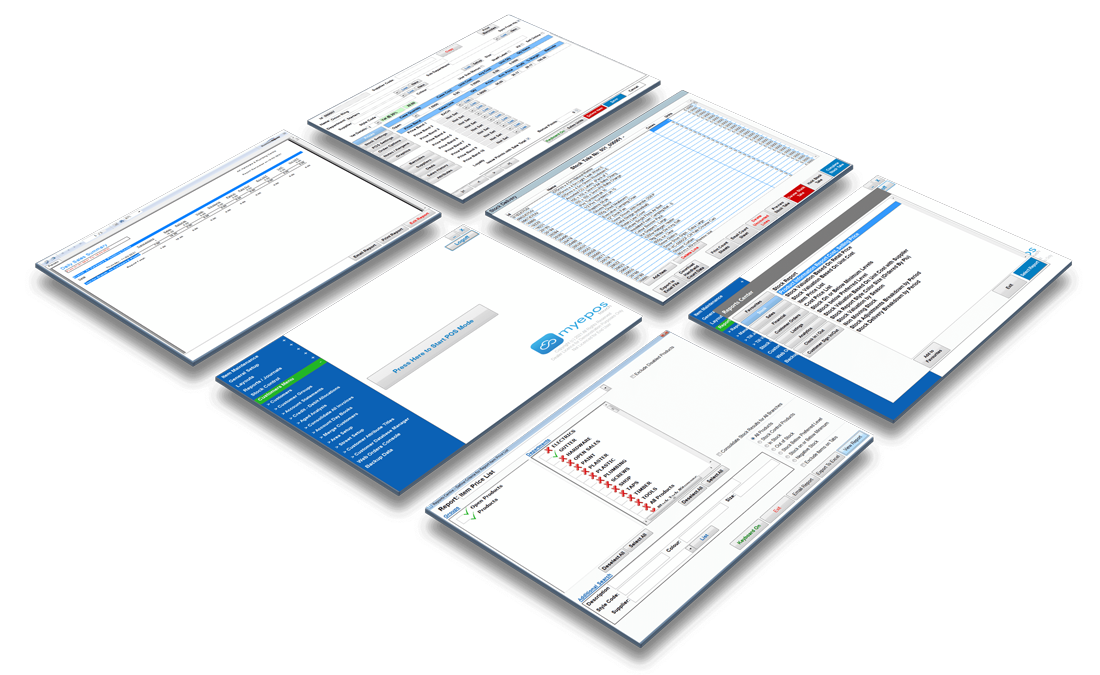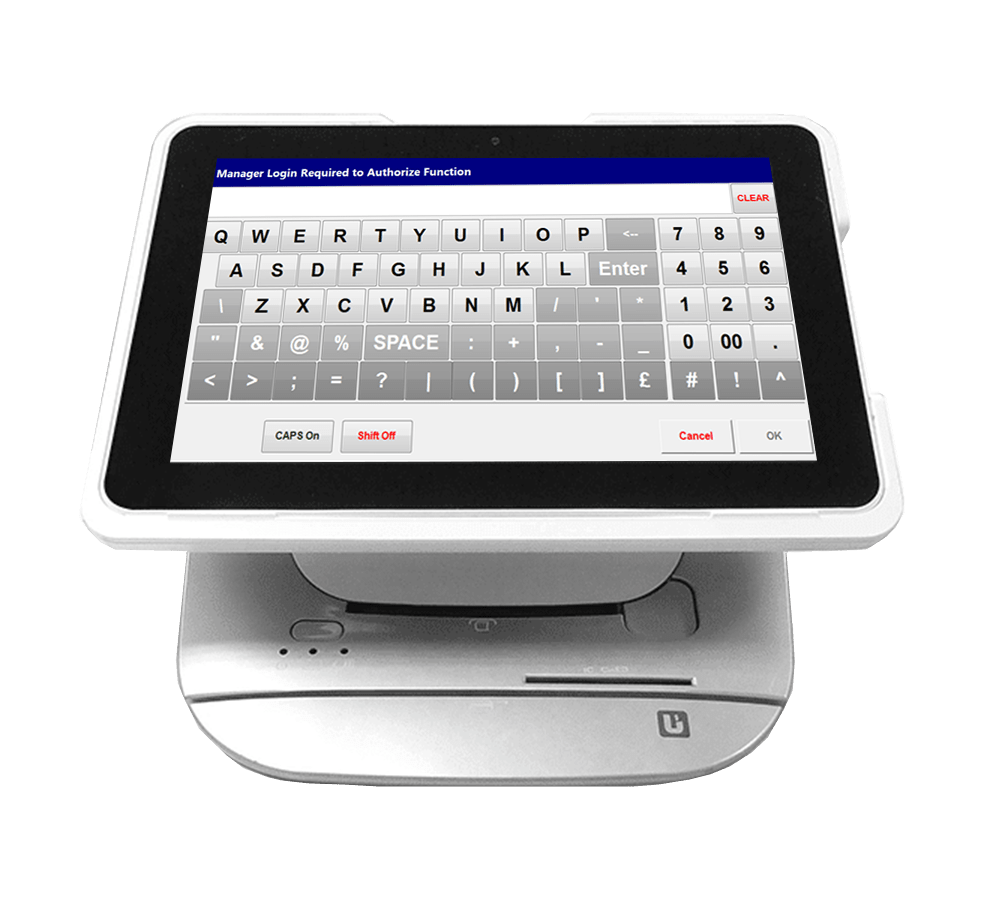 Powerful Management
Customer Experience starts with Staff
MyEPOS has a large variety of control on staff but its also completely flexible so you can be as involved as you wish. If you want, you can save money on over-paying staff with an electronic clock in and out system. Track time and attendance down to the second, so neither you nor your staff will have to remember. Your staff accounts will also hold different levels of access depending on their responsibilities, making sure certain staff can't access sensitive data.
You can also tackle fraud with our software and gain further security by linking this with your CCTV. Never miss a trick and keep a track of where your assets are going.
Innovative management
The best way to Manage your Customers
We know that managing customer accounts and credit limits can be a pain, we also know that the ability to manage customer accounts can make or break a business. MyEPOS tracks customer spending and easily allows you to allocate payments, assign refunds and even issue invoices whenever you want directly from your till! MyEPOS makes it easy for you to put an account on stop and warns you if a transaction is about to go over the customer's credit limit.
Your customer database has never been in more reliable hands. Enjoy extensive customer tracking where you can link serial numbers to accounts. This means that if Dave, for example, comes in trying to exchange a mobile phone, but he doesn't have the reciept – you can prove the purchase by the serial number which will, in turn, bring up Daves details at the point of sale.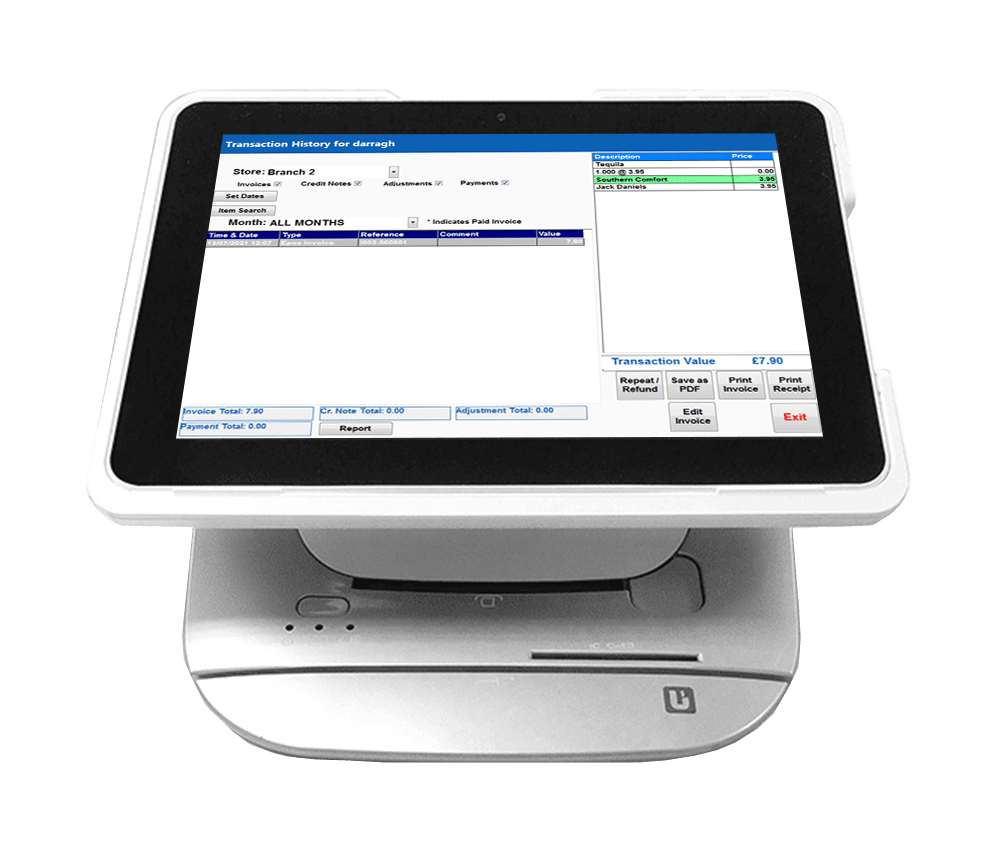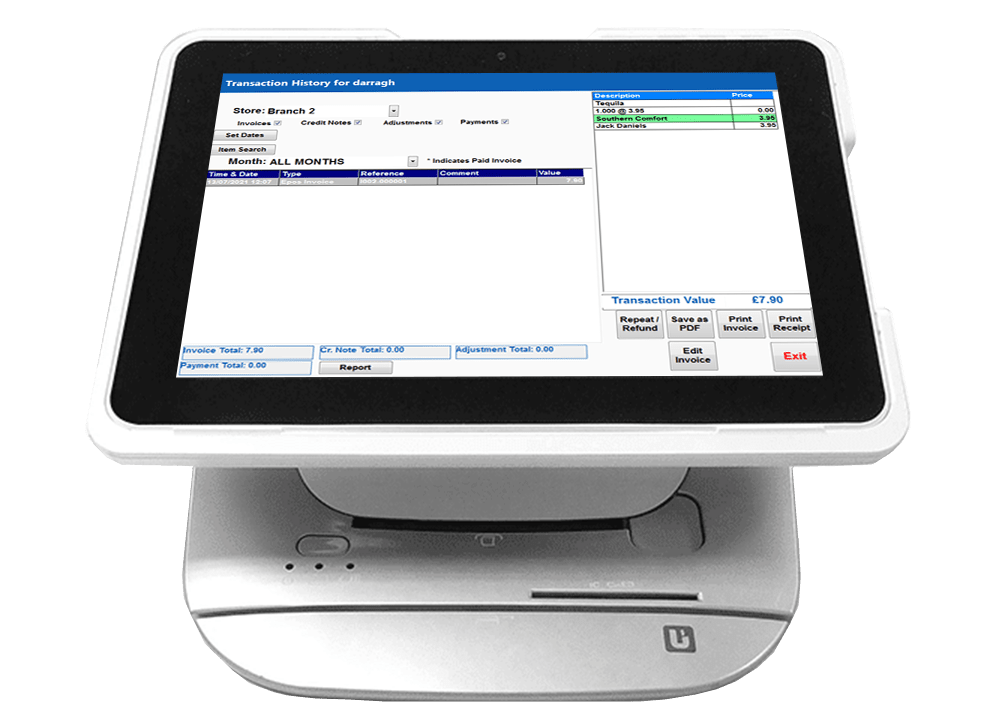 The only Software Solution you need. Guaranteed.
Streamline your retail business using one control centre – the key part of any Industry. MyEPOS has proved its ability to increase sales and improve productivity. Manage your stock, staff, sales, data and payments from the same management portal. Easily train staff using our simple and innovative design that anyone can master and impress your customers!
You put your heart and soul into your retail business. Shouldn't your EPOS provider do the same? We think so, that's why MyEPOS software is designed by programmers that have extensive experience in retail. We know the trials and tribulations and we get it, you just need a system to process orders. But why not get a system that will impress and transform the process – get all of this at an affordable rate with support options included.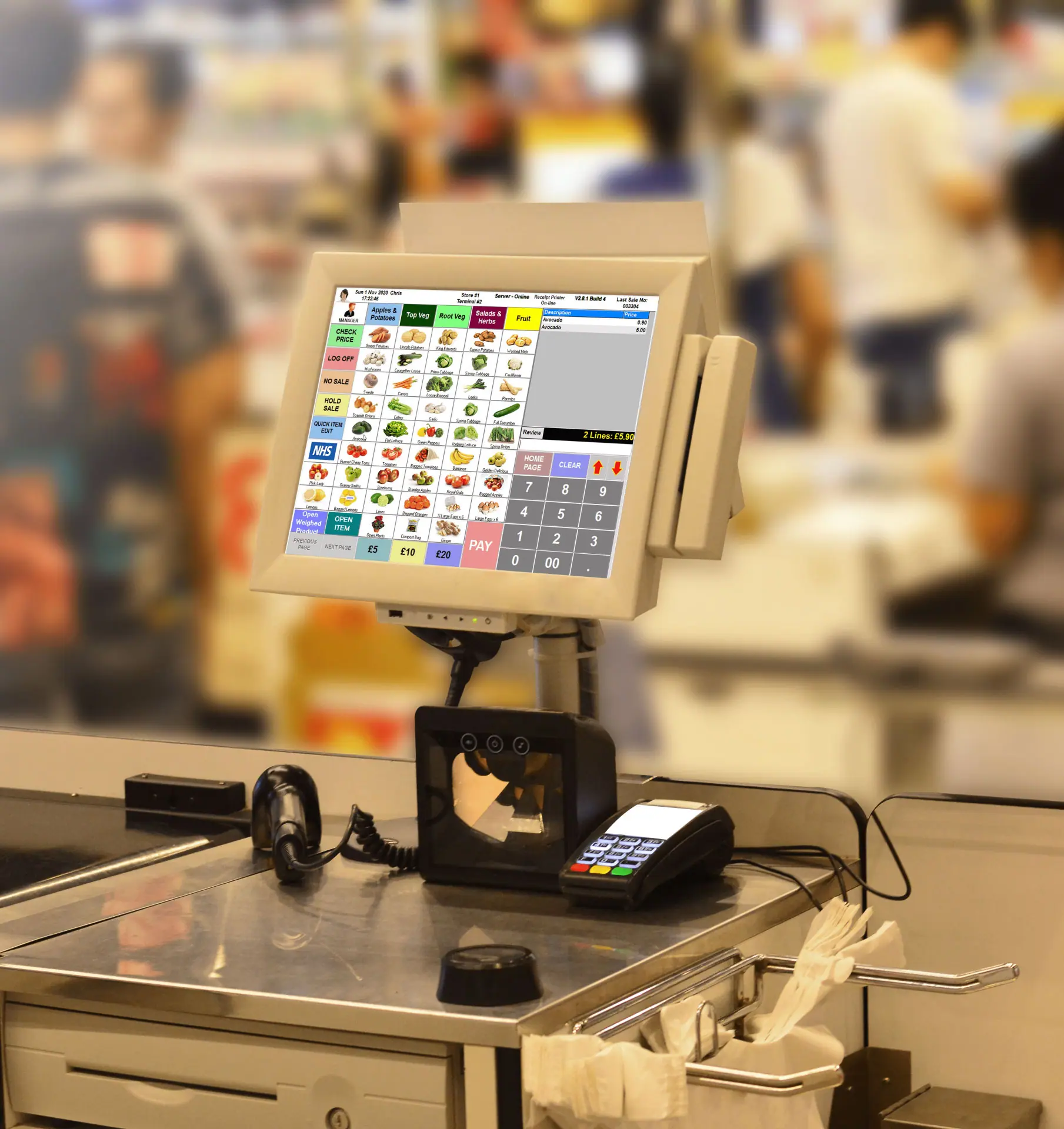 As Standard
Your assigned reseller will set up.
Cash Drawer, Scanner + Printer provided.
Accept all payment methods.
Multi barcodes handled.
A4 Receipt/Invoice printing.
Ability to connect CCTV.
Full Promotion Control.
Extensive Reporting.
Support + Training.
Email Reports.
Size profiles.
Shelf Edge Label Printing.
Loyalty Schemes.
Bulk Price changing.
Popular Add ons
The Back Office Management portal.
Ongoing support + Maintenance.
Integrated Scales.
Integrated PDQ.
Accounts credit control.
Cloud-based data storage.
Enhanced Loyalty Schemes.
Staff Management.
Handheld Stock Counter.
More Add ons
Mobile ordering capabilities.
E-commerce ability.
Advert display screens.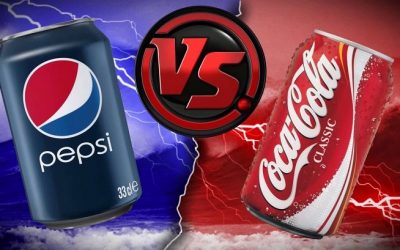 The world is slowly but surely going back to normality. By slowly, we mean a snail with a parachute attached and surely we mean as unsure as the weather in the UK. However, by the looks of things, the hospitality industry will remain open from now until forever. With...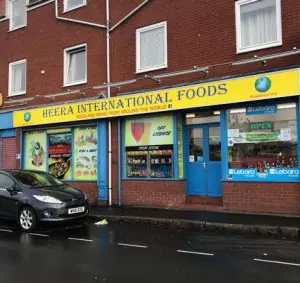 "SMS Counterweigh introduced us to myEPOS and we have never looked back.The system has proven so reliable we have now expanded into 8 shops and could not have managed this without the myEPOS solution."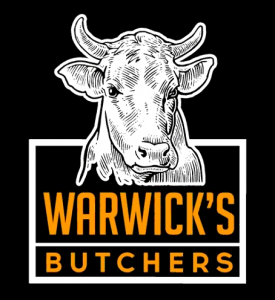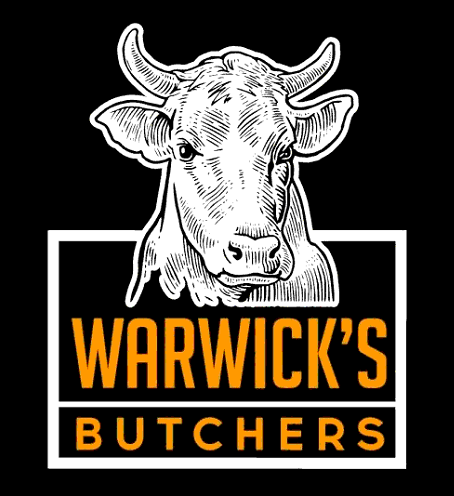 "We needed a solution that would interface with our meat scales and let us sell meat directly over the counter. We needed a system that would grow with us and myEPOS has done this for us."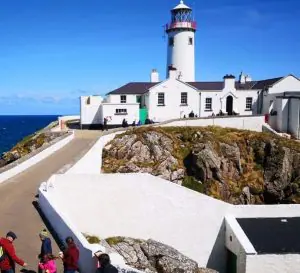 "We needed a solution to track souvenirs and gifts sold to visitors at our lighthouse, but we also need to be able to track where we purchased the goods from. MyEPOS was one of the only solutions that did this for us."
Easy to edit promotions
We've got your promotions covered
We know that promotions can make or break a retail environment, we also know that customers need to be told that the promotion will be applied to their purchase.
MyEPOS has an easy to use promotion management system that allows you to quickly and simply create and edit promotions. It also has the capability to handle promotions such as, Kellogg's annual "buy cereal and get a free bowl promotion" which can be a nightmare for other systems – but not MyEPOS. You can also simply track your promotions and provide clear and easy reporting so you can see which promotions are working well, and which are working badly – great for quick price decisions.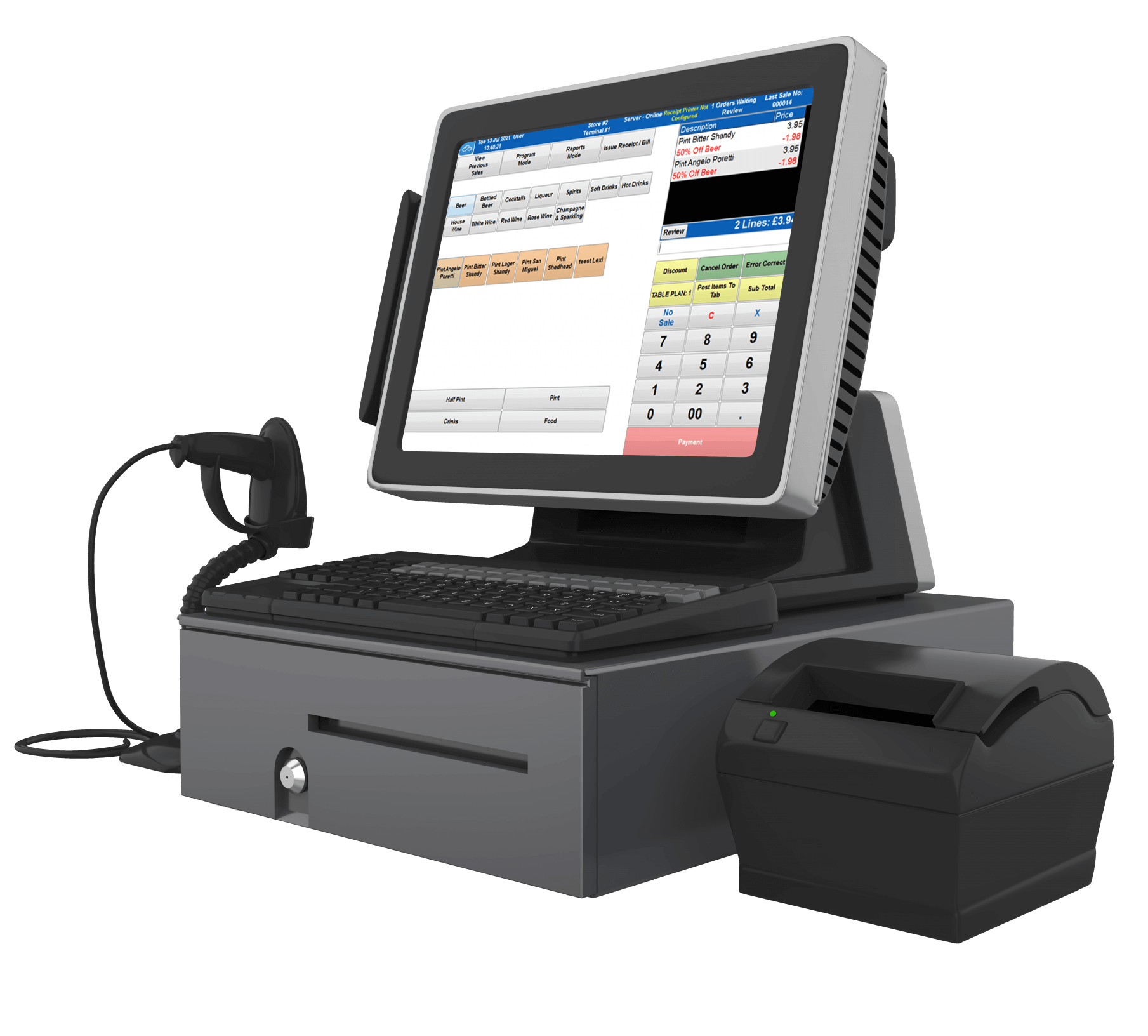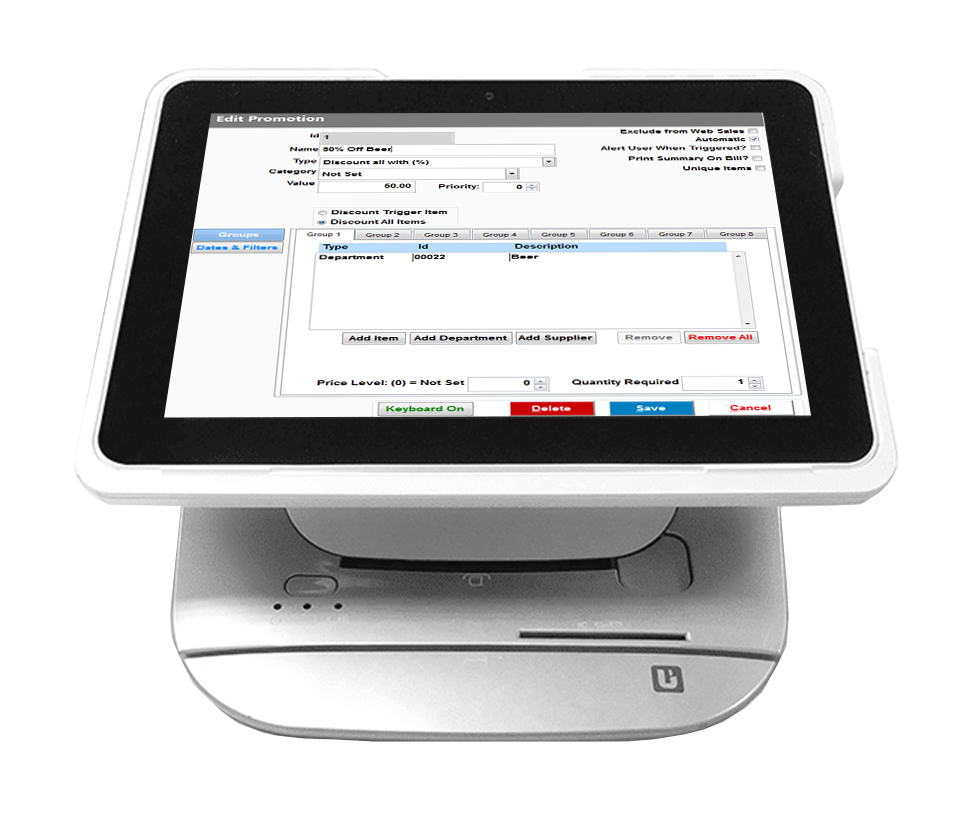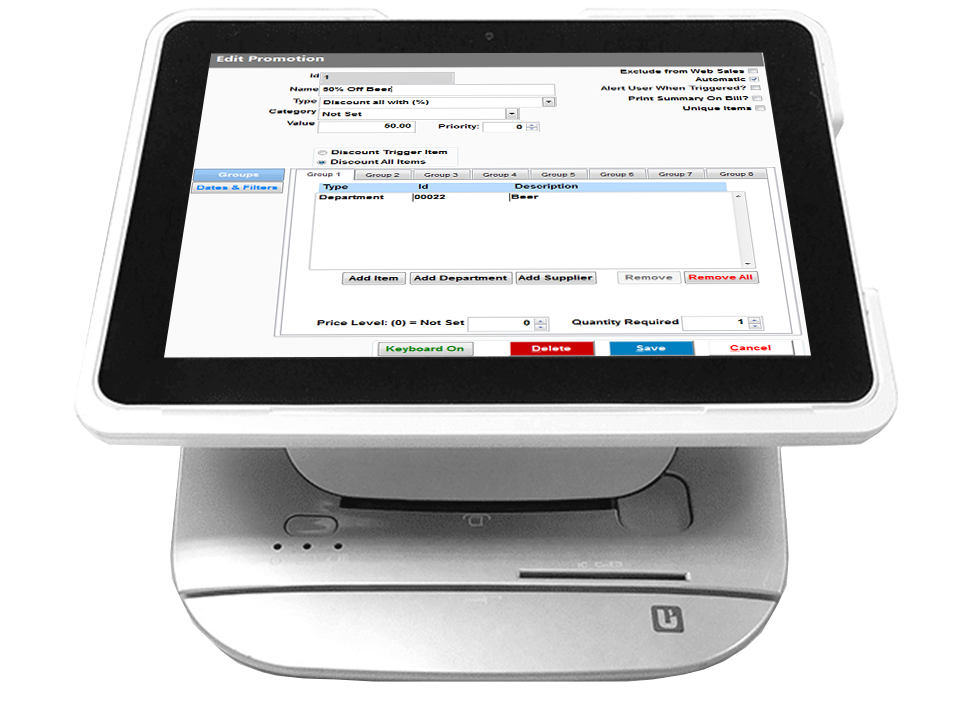 Timely promotions
Your Loyalty Schemes are sorted
We recognise as a retail environment you may want to offer your customers a loyalty scheme. The perfect way to improve your customer retention. MyEPOS makes it super easy to issue and redeem loyalty points taking the stress out of managing your business.
It's easy to allocate a points per £ spend and it even allows you to customize the points value when it comes to redeeming. The customer database also enables you to track your customers purchase history and see who brought what when. Within our Customer Database, you can also log key points such as Date of Birth and Proof of Age so that you can ensure you are operating within the eyes of the law.
Additional products
The Easiest way to Advertise
At MyEPOS we want you to gain profit at every possible opportunity. With the addition of a full rear display, you can advertise to your customers while they are stood at the till!
With MyEPOS it is super easy to customize the images you're showing your customers! Simply drop the adverts into a folder and off you go…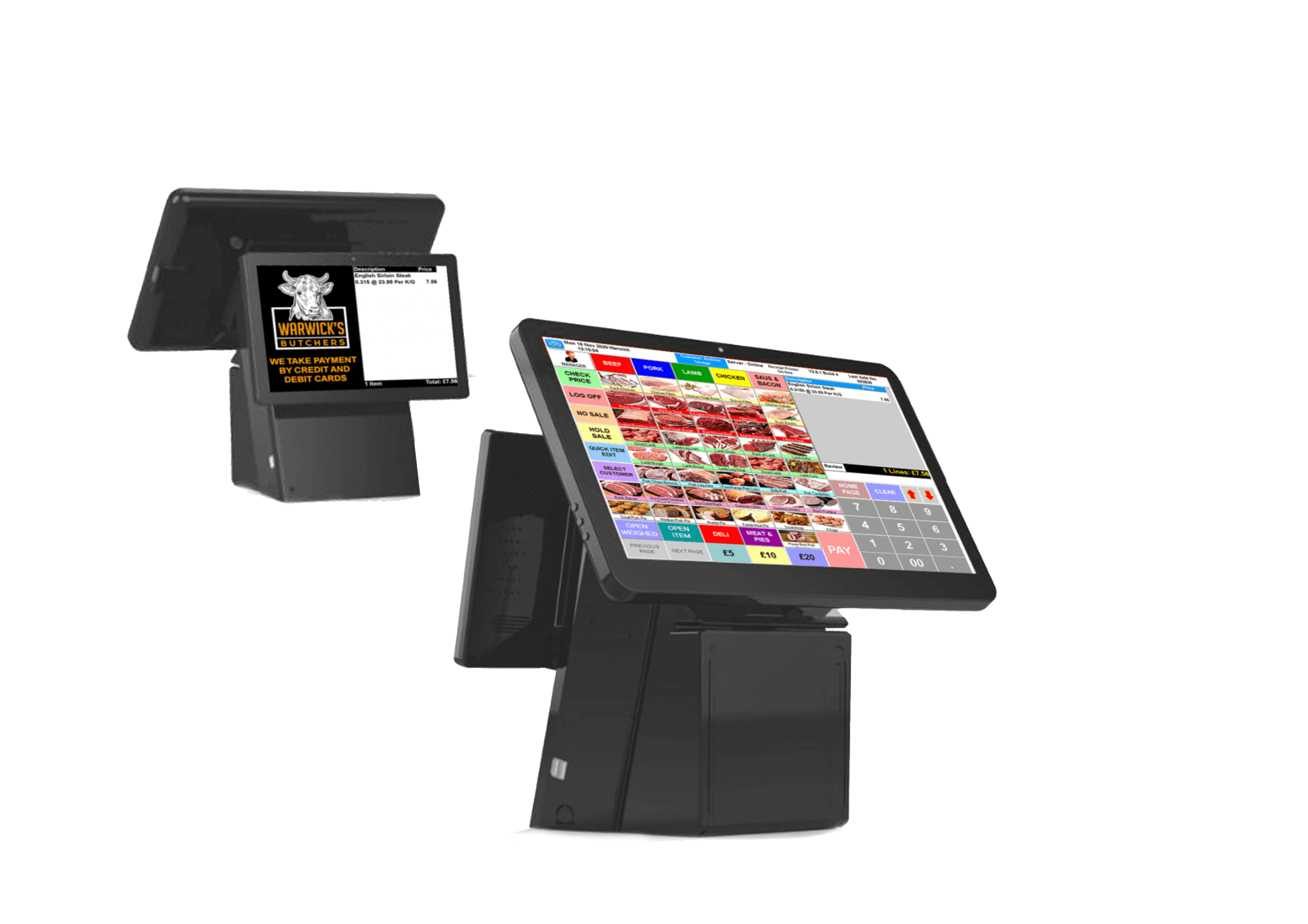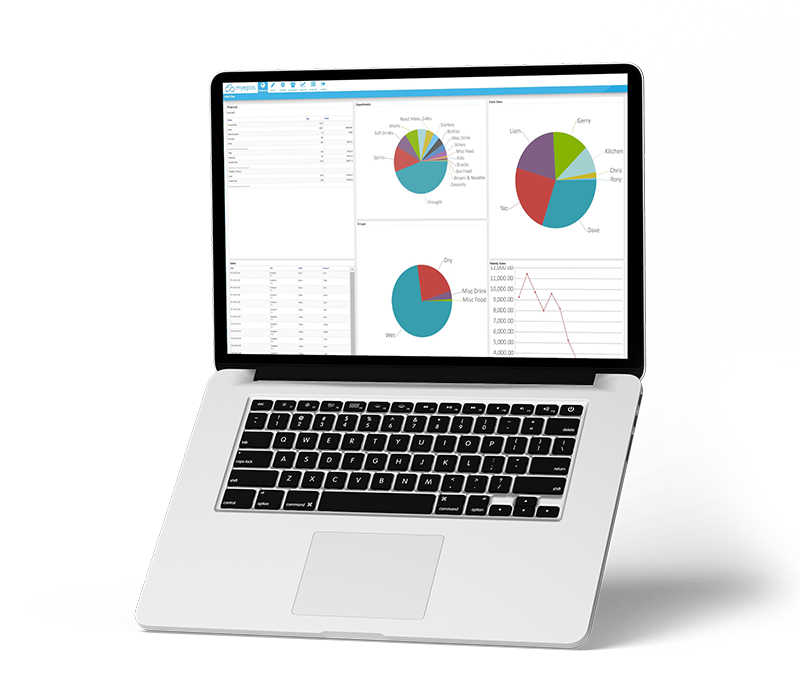 Powerful Reporting
Using the data to Develop
Whilst running a store looks easy, managing the product lines and keeping on top of what customers purchase and what doesn't sell can be difficult. myEPOS has over 100 flexible reports built into the Back Office solution to show slow Movers, Popular Lines, Profit and Loss, Stock controls, automating purchasing reports and many more. With myEPOS you can sit back and have all the data to hand. Not only is there a Backoffice for the Office, but we have a Till Backoffice system and a Cloud Back Office so you are never far from your data.
additional products
UK Weights & Measures Approved
Integrated Scales can be attached to the POS for easy retail of Weighed Stock and the scales can also double up as a Meat Scale where you need to produce a label for scanning later.
A variety of PDQ machines integrate for seamless card processing and with myEPOS you have a wide variety of tools that can be bolted on through Cloud software such as Xero Integration for your accountants.