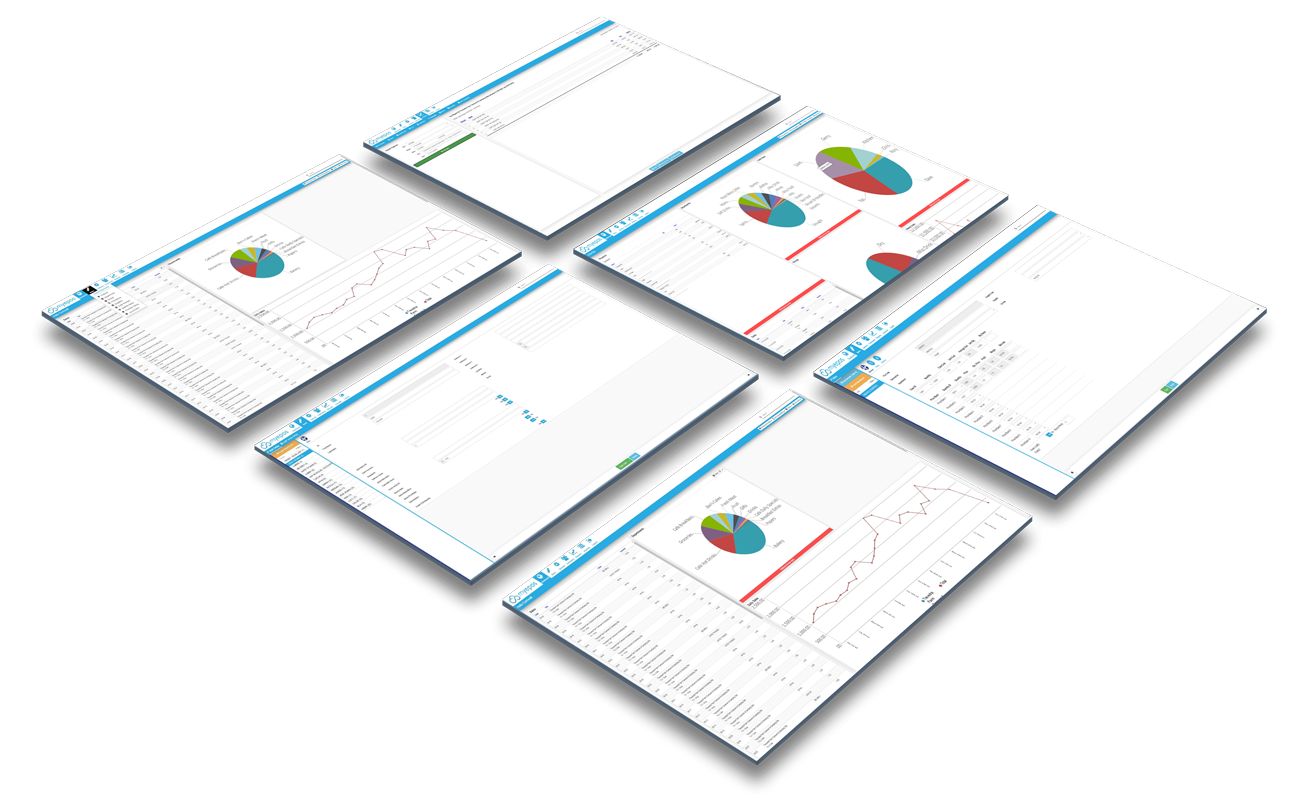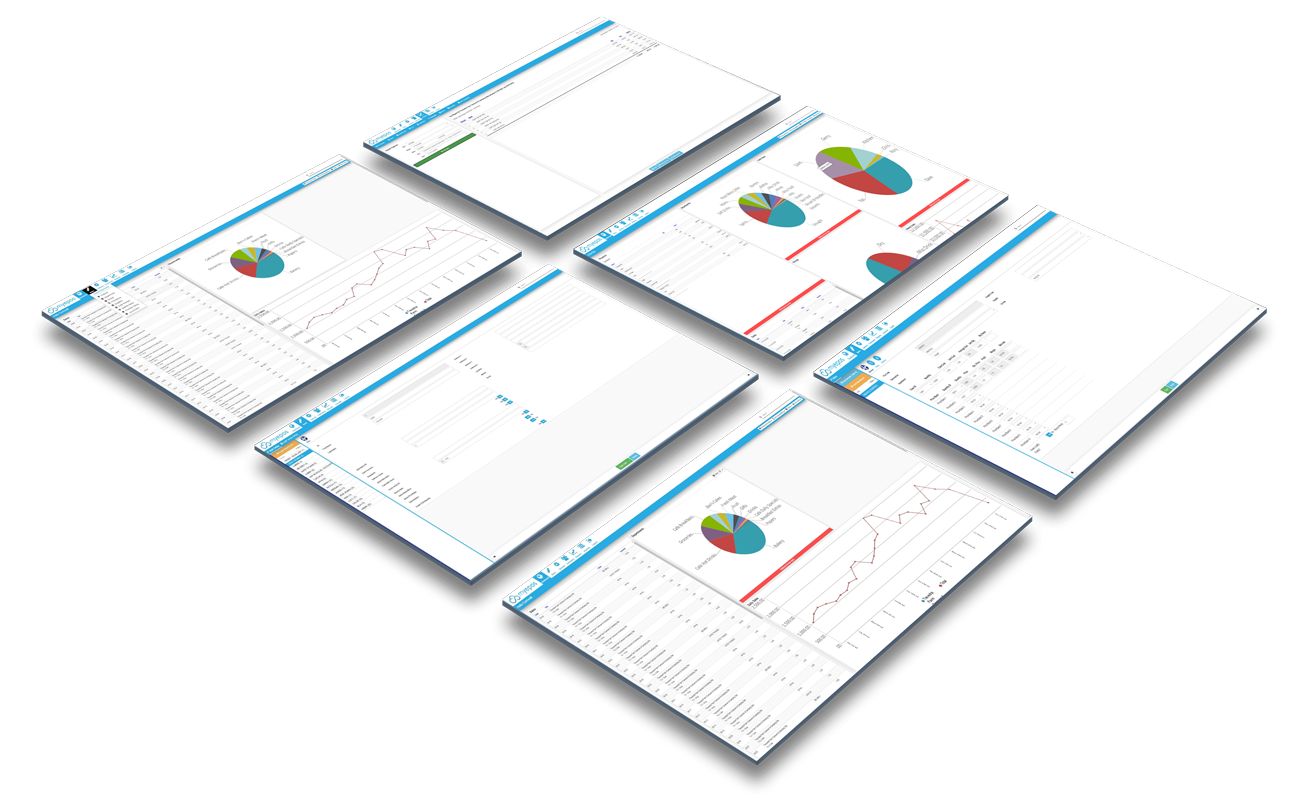 Back Office in the Cloud
Convenience | Restaurants |  Hospitality | Retail
Occasionally (well less occasionally with the introduction of COVID-19) we all want to be able to access the business information remotely when we do manage to leave the business.

 Perhaps we want to share information with the accountants – For example the End of Day readings so they can handle these for the company Accounts.
---

 Or, perhaps we are looking to do that Urgent Price change or tweak a promotion that isn't quite working as well as we envisaged?? The Cloud Back Office allows you to do all this and more…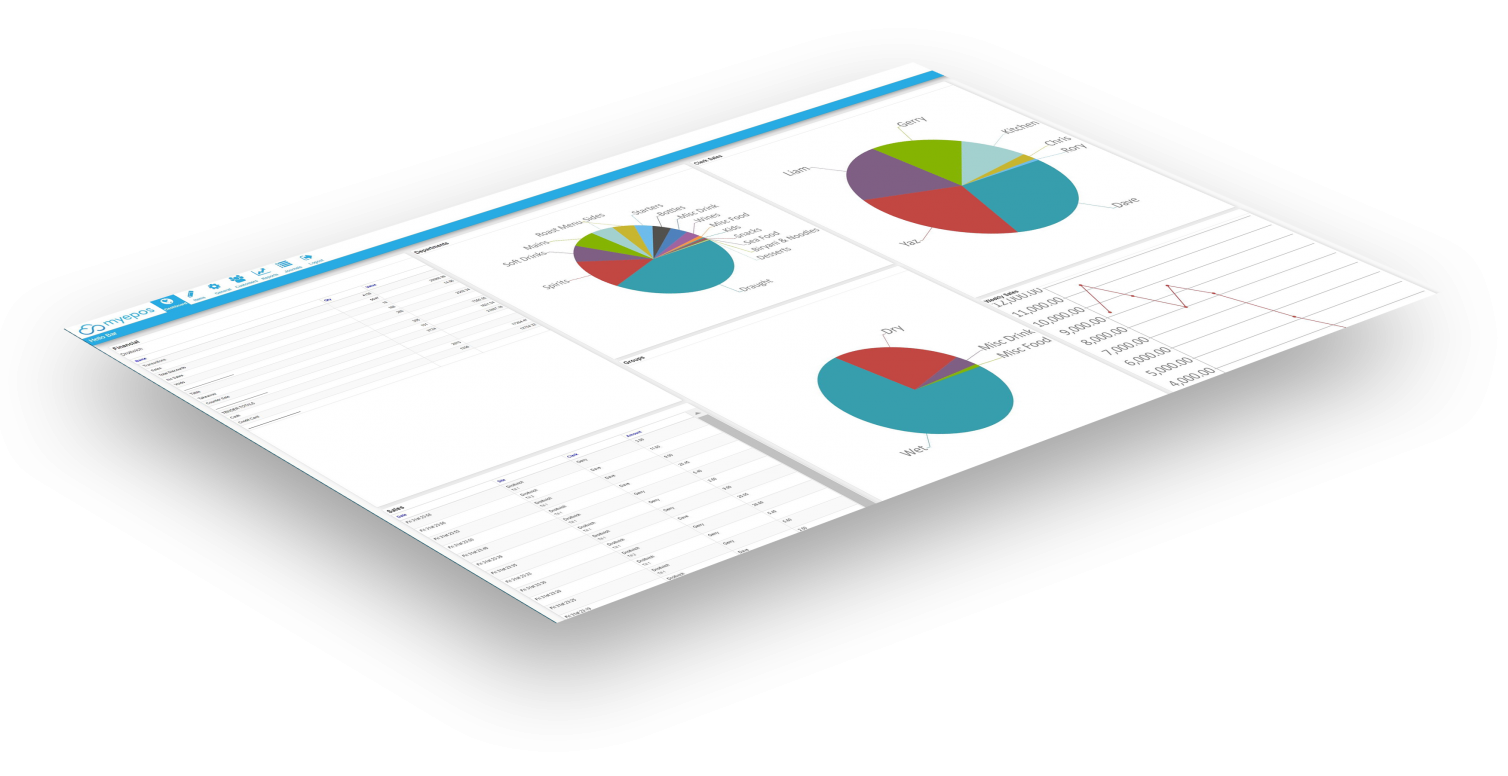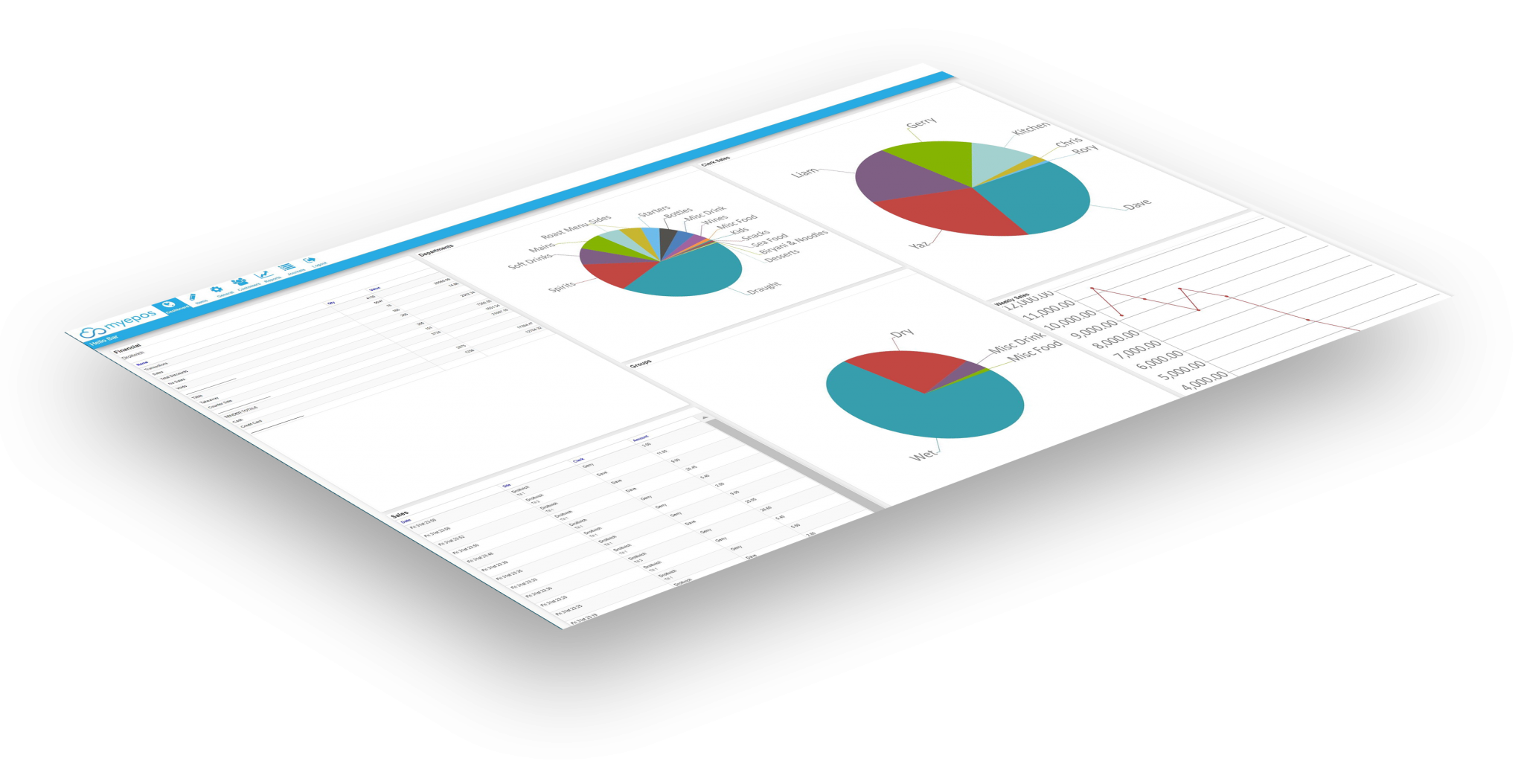 Offsite Backup
Convenience | Restaurants |  Hospitality | Retail
A Cloud Backoffice should be more than just being able to review your turnover and see the sales as they happen (Obviously we do both) it should also act as a safe storage should the worst happen.

 With our cloud backoffice a full backup of your EPOS terminals is taken live – A Bit like DropBox for Tills.
---

 Obviously having a backup is key these days, but like Dropbox, our Cloud system not only keeps your data safe it also allows you to review aspects of the business.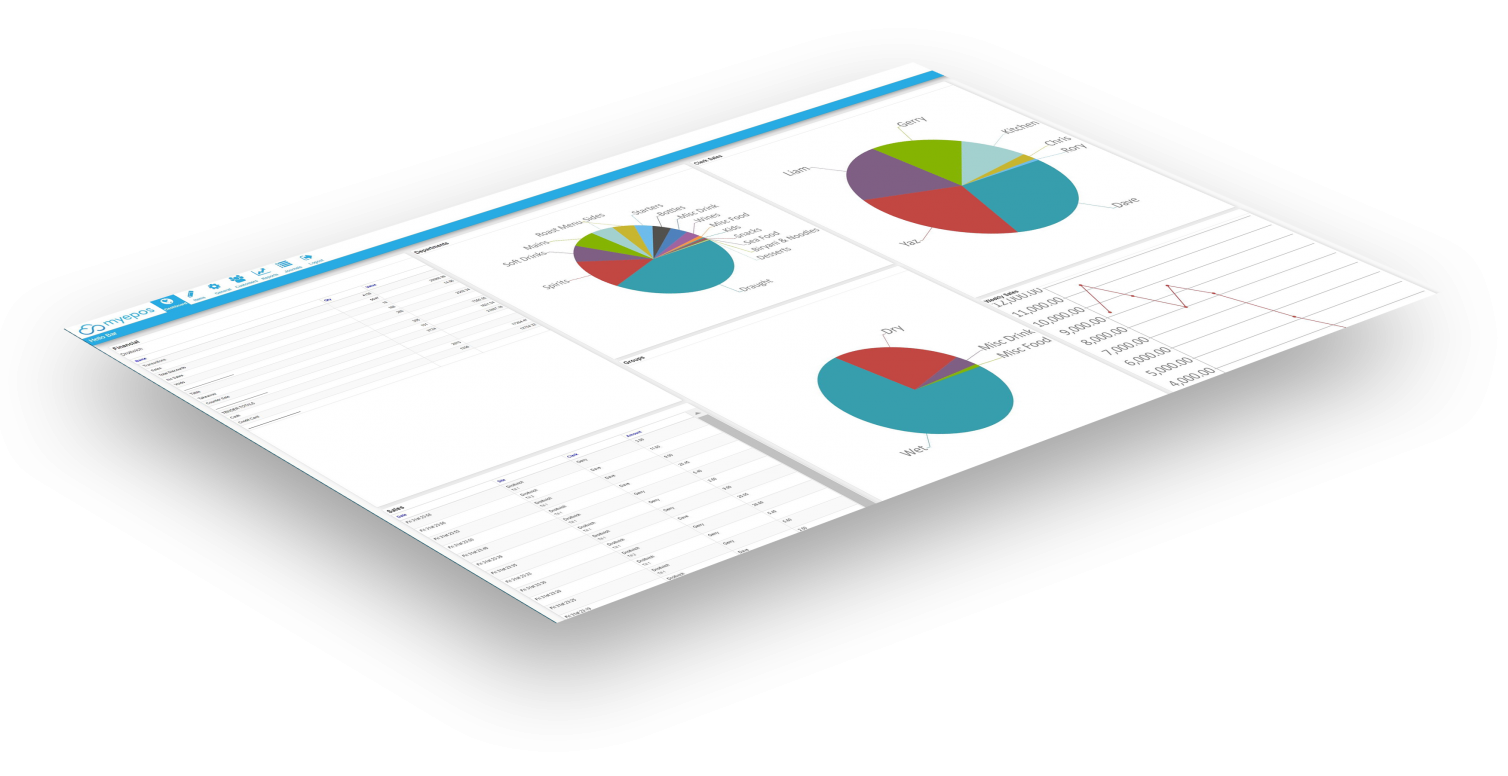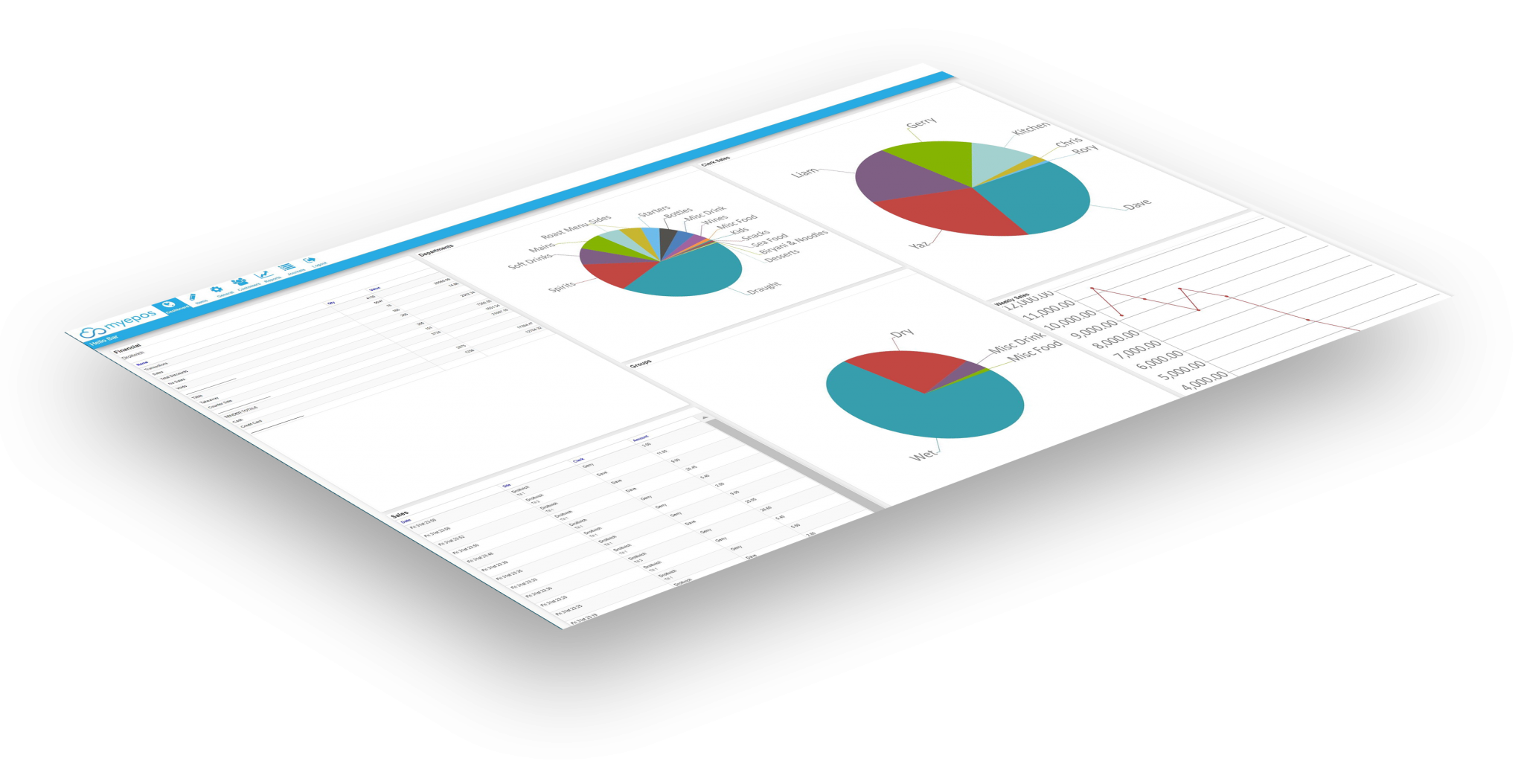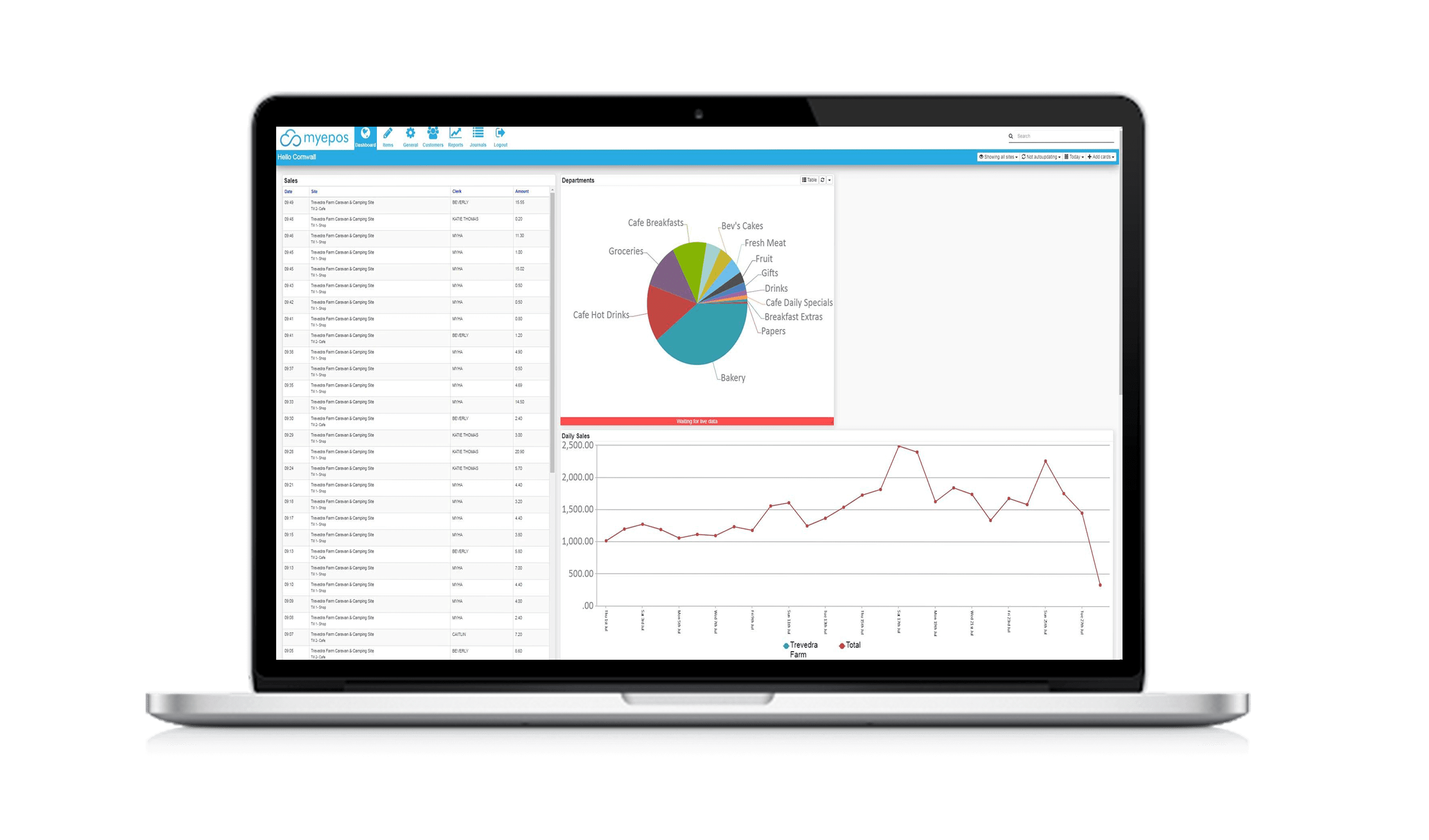 Access to Reports
Since all of your sales data is stored in the cloud, access to live reports are readily on hand from any web enabled device including your Mobile phone or your iPad.

 Select from a wide variety of reports that detail aspects of your business.
---

 myEPOS Cloud is multisite, you can report on multiple sites figures from a single place.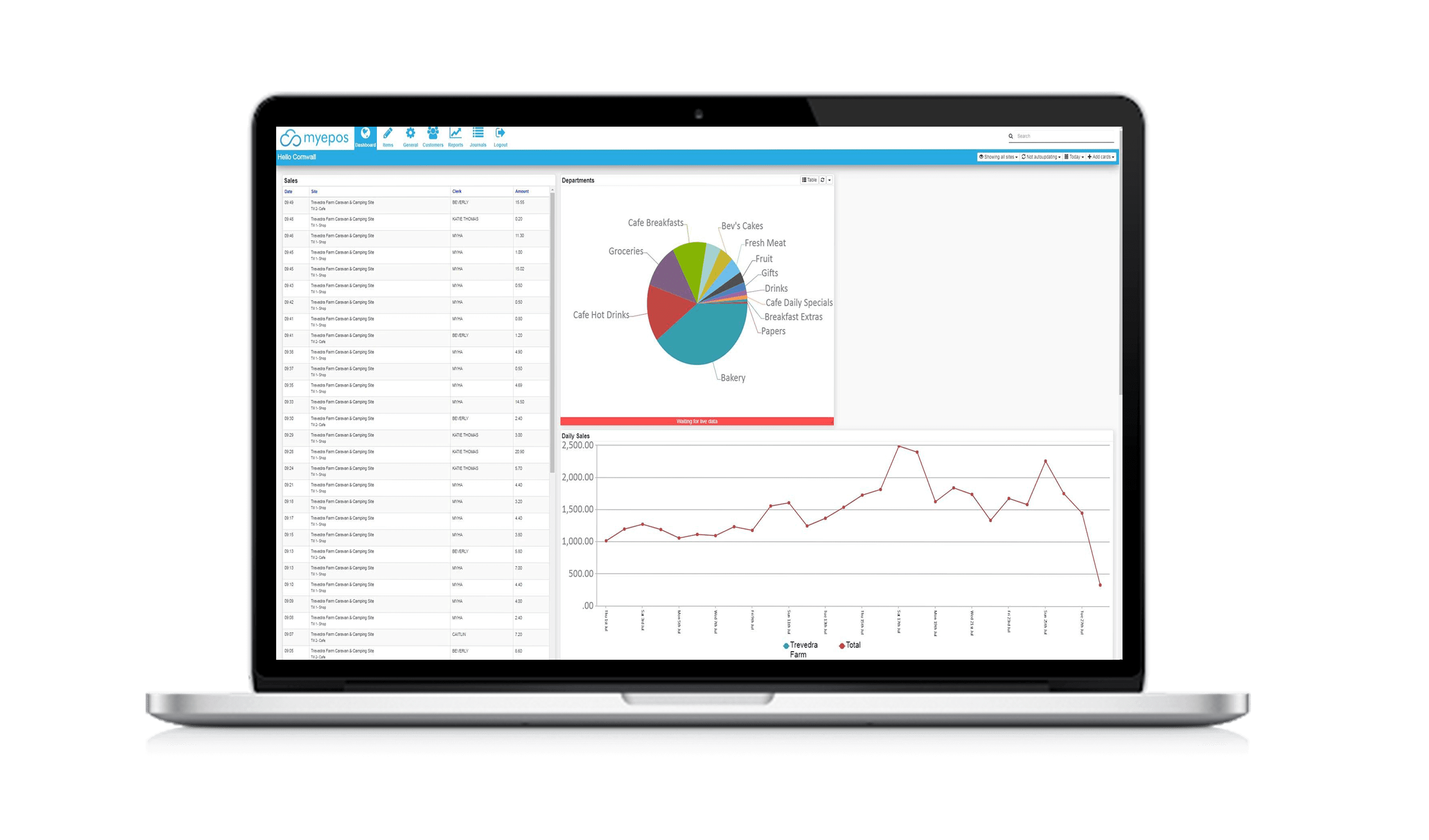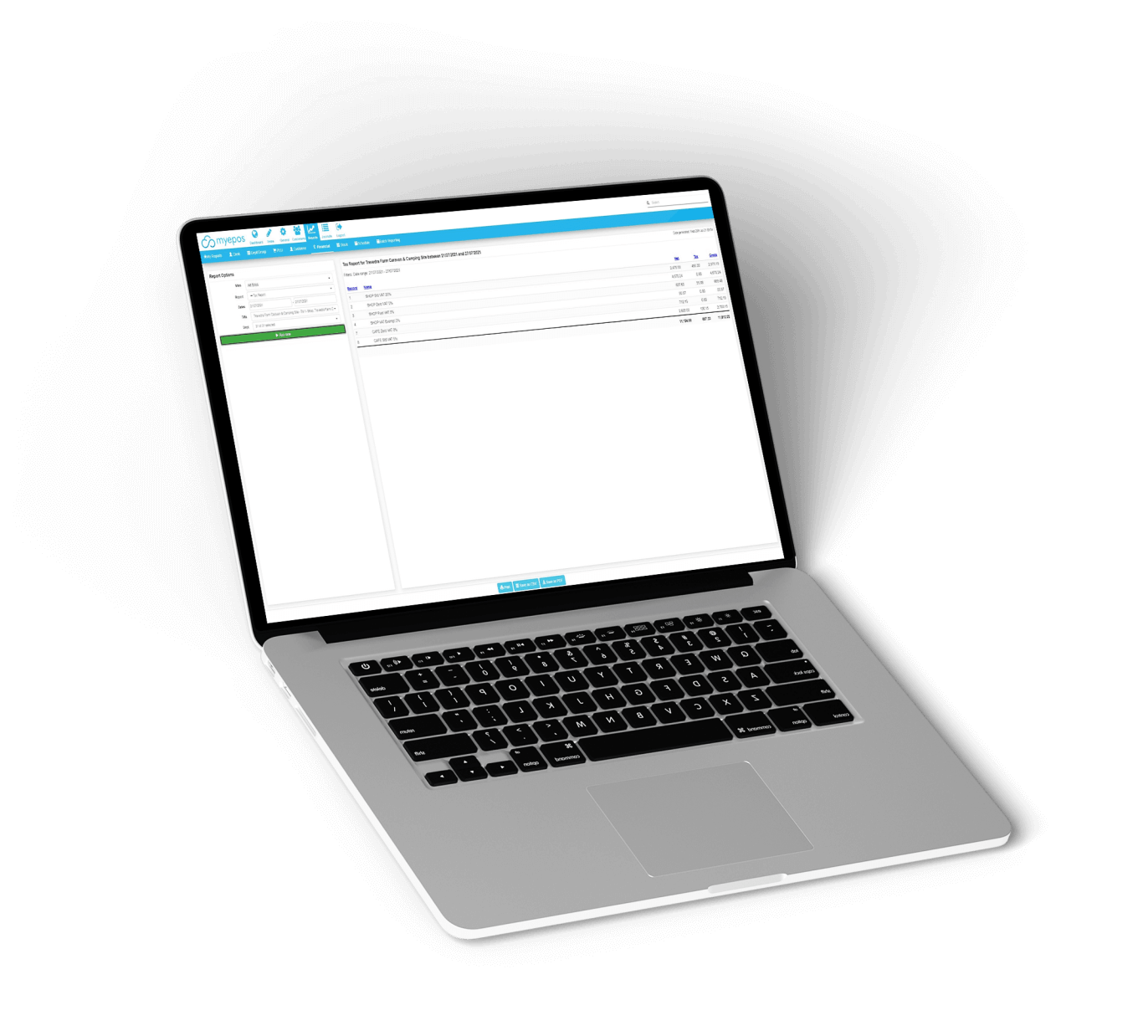 Fiscal Data and your Accountants
Convenience | Restaurants |  Hospitality | Retail
Obviously, we all need business accounts and generally farm this out to an Accountant.

 With myEPOS Cloud, you can easily provide access to your Sales data for entire periods, such as for VAT returns or similar.
---

 With the cloud, we also have connectivity through API's so figures online can be communicated to other packages.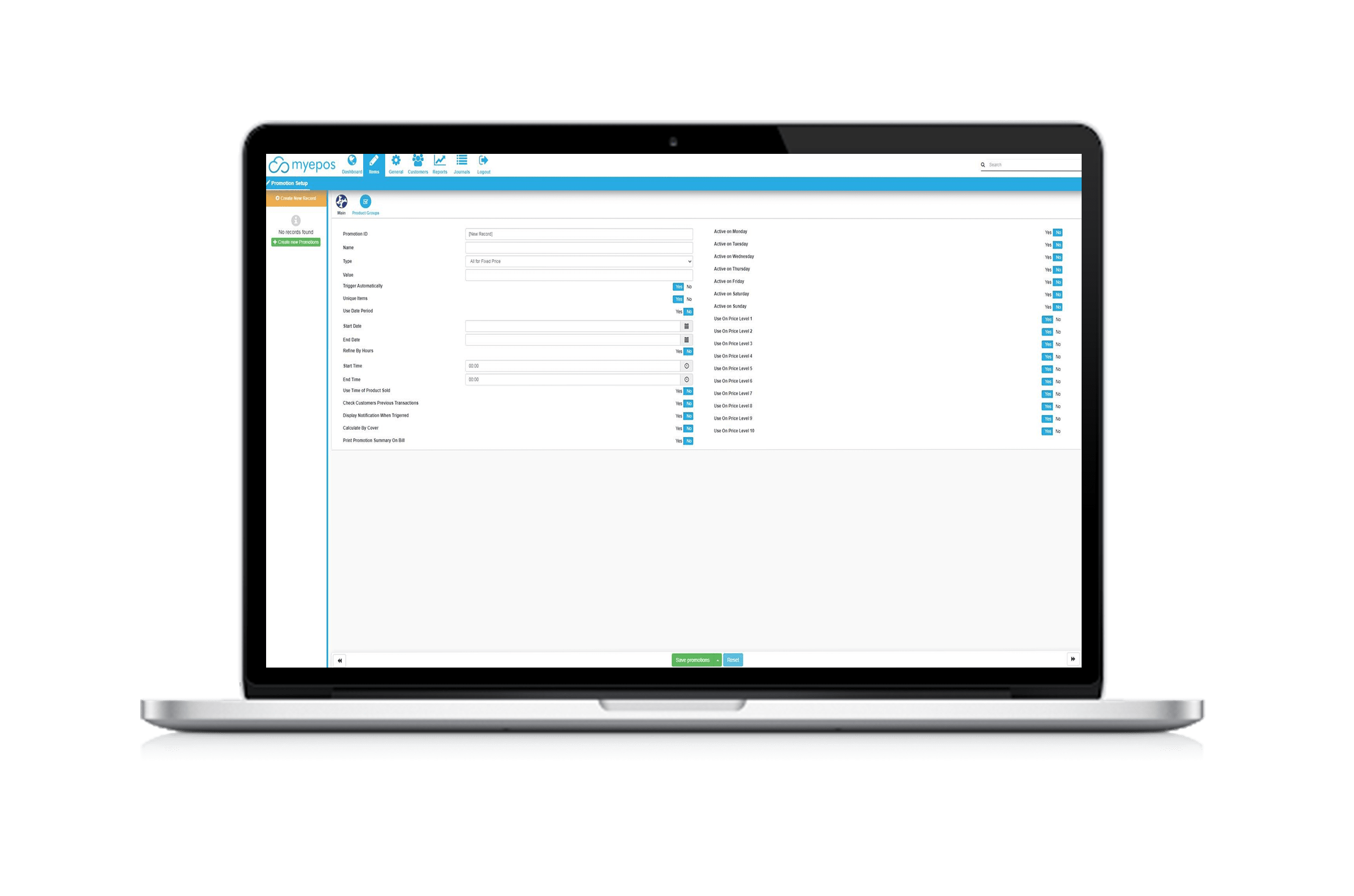 Handling Promotions
Sometimes we need to deplete old stocks or keep up with the local competition. An ideal way to draw customers in is by providing some kind of deal.

 Promotions can easily be assembled; they are also fully automated and accurately reported on in the Cloud Back-office.
---

 Sometimes running successful promotions isn't always about making a profit on the actual promotion so much as increasing footfall and expenditure elsewhere within the business.
---

 myEPOS Cloud Back-office helps you achieve this with backed up data.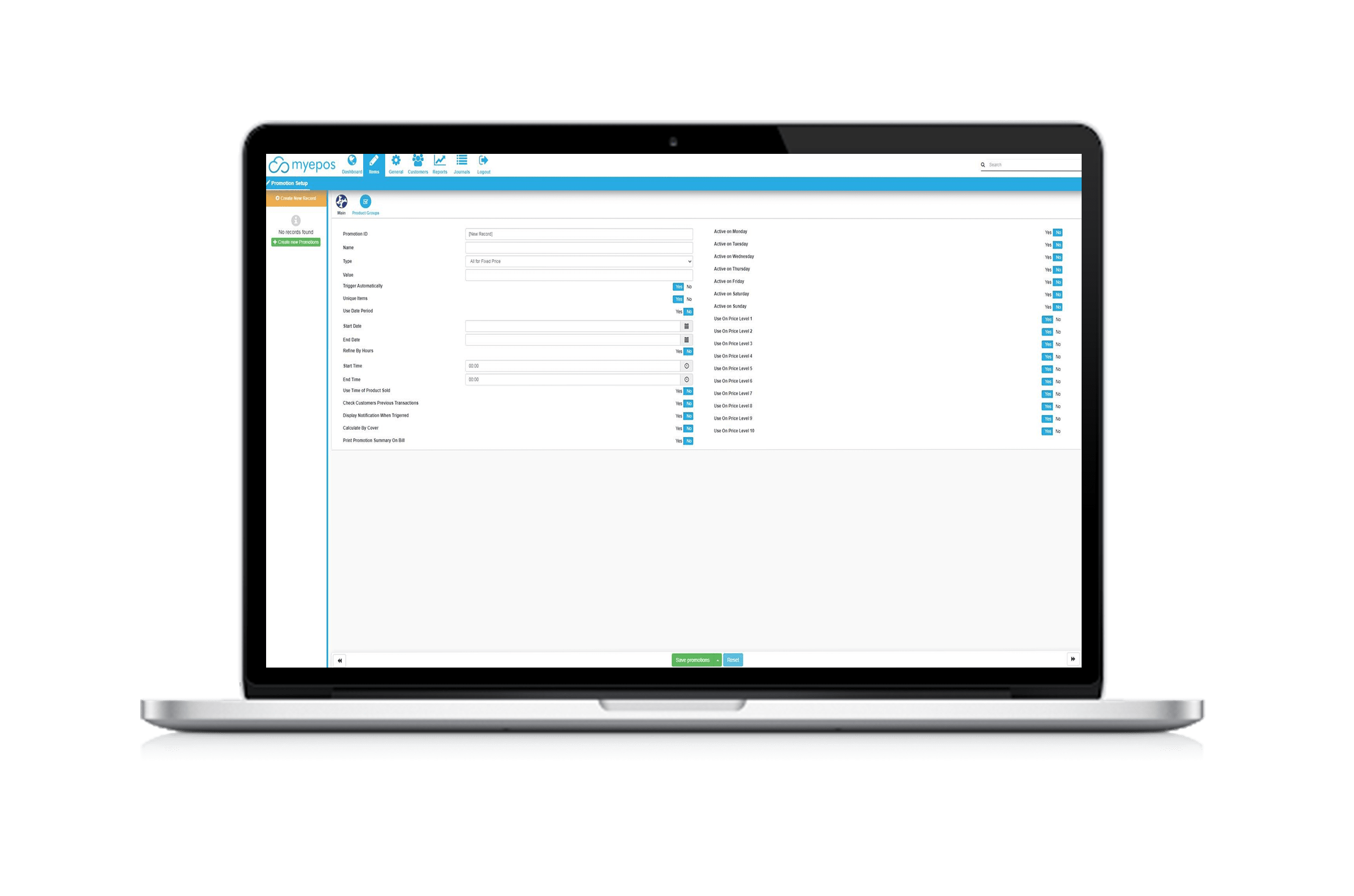 Easy Navigation
Convenience | Restaurants |  Hospitality | Retail
With a simple and easy to use navigation tree you can gain a picture of your business quickly, without any of the fuss.

 Easily update Products, Screen Layouts, manage your Staff, Visualise Reports, adjust promotions and gain insights in real-time.
---

 Access to Hourly Reporting, Sales Journals, Time and Attendance, Bookings are all just a few clicks away.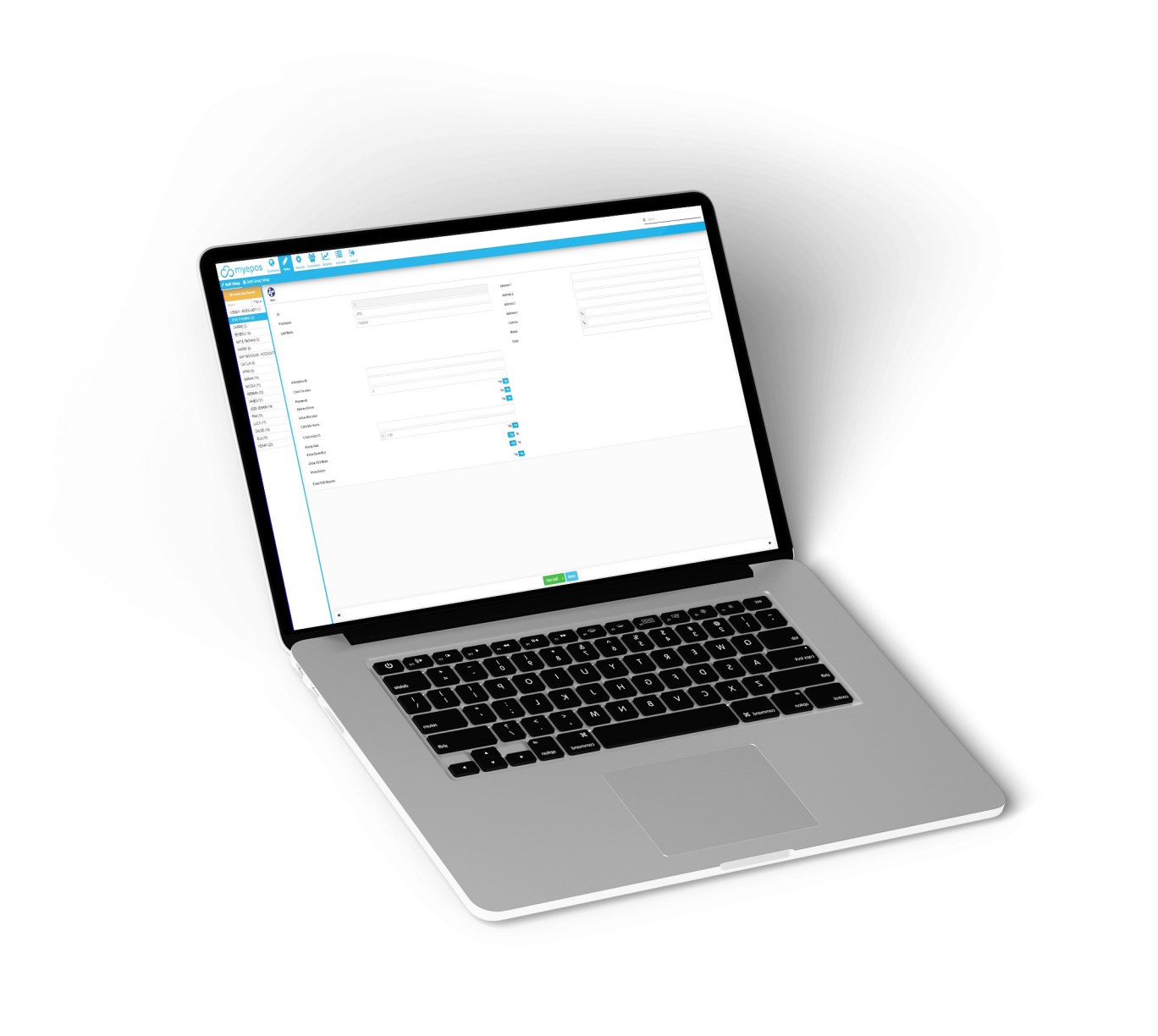 With this flexibility can I lock it down?
myEPOS Cloud has a flexible approach to access control.

 Your myEPOS cloud account has the ability to Allow multiple users and to restrict which sites / features these users can access
---

 With your access control, you are free to restrict managers to just their venue, to See reports and not Edit if desired whilst also allowing your account access to all the figures they require.
Get Started in 3 Easy Steps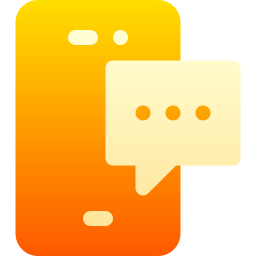 Step 1
Your EPOS provider will discuss your requirements, explain the options available along with a competitive quotation and discuss how to get the products needed for them to set up the system.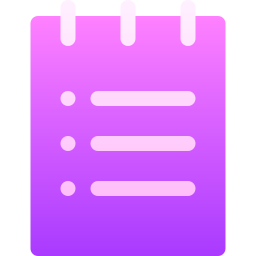 Step 2
Once your EPOS provider has either the products in a spreadsheet format or multiple suppliers spreadsheets, they shall look for a list of Clerks and content for the Receipts.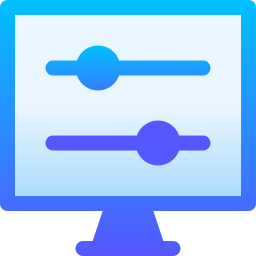 Step 3
Your system will get delivered/installed. Your EPOS supplier will train you on how to use the front of house system and make meaningful analyses of the Sales Data/Reports.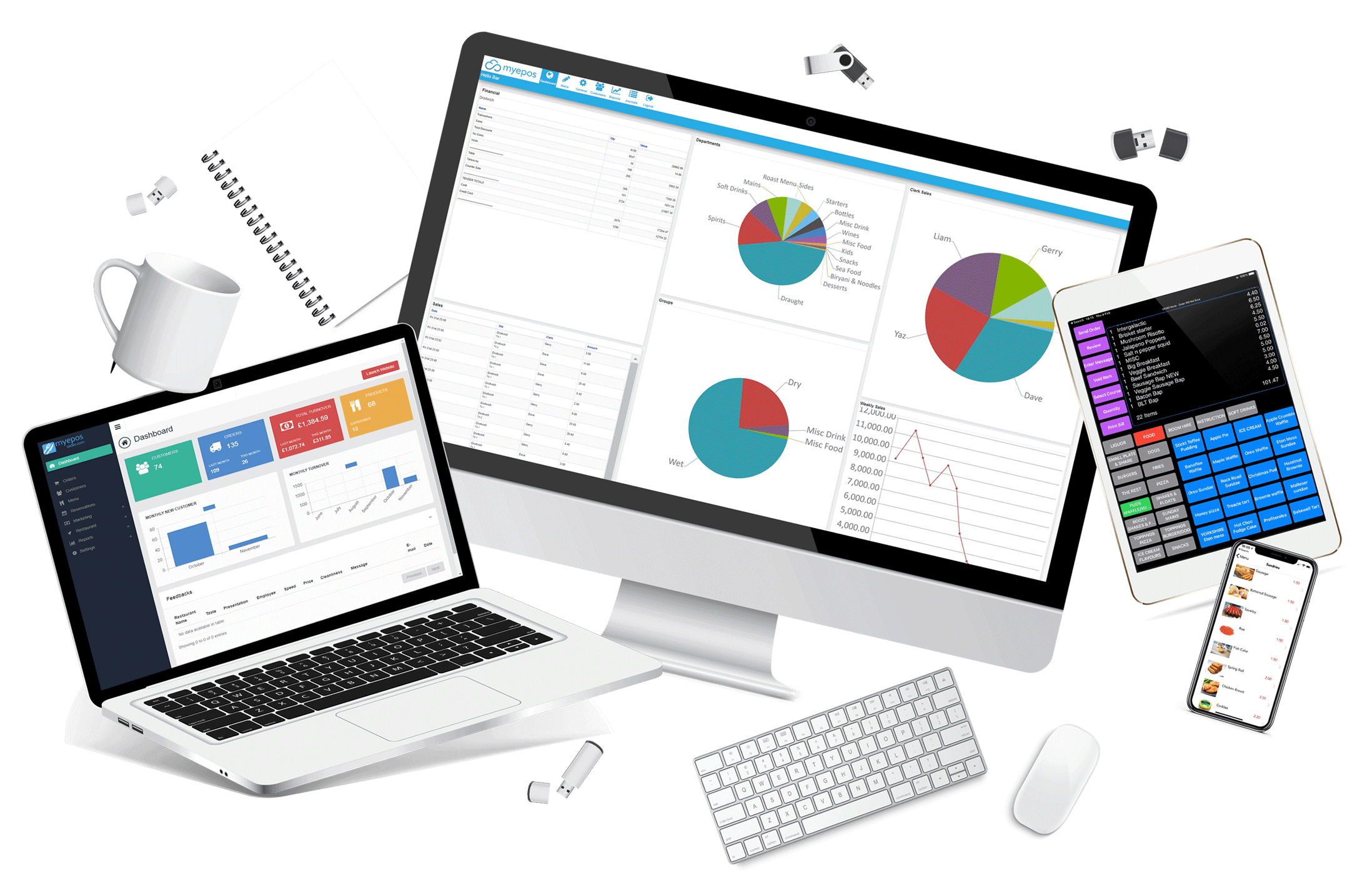 Ready to
get started?
Transform your business today with an epos system that grows with you.
Frequently Asked Questions
What on earth is EPOS?
Electronic Point of Sale (EPOS), sometimes referred to as Point of Sale (POS), is a combination of hardware and software designed to help you run your business more effectively. Where traditional till systems record sales, EPOS systems not only record this transactional information but can then generate detailed reports in response to the input data.
What is an EPOS system used for?
Unlike traditional cash registers, EPOS systems perform a wide range of functions, including inventory management, sales reporting, staff management, barcoding, customer relationship management, and payment processing. 
How to set up an EPOS system?
myEPOS Point of Sale system is easy to set up so you can be up and running within 15 minutes, guided by your dedicated reseller in your area. A dealer near you will set up and train your staff and provide ongoing support and technical maintenance.
What are the advantages of EPOS?
When using an EPOS system, there are mass amounts of advantages and opportunities that come with it. To name a few, it can accept multiple payment methods, help improve customer experience, aid in inventory management & stock control, provide detailed and analysed sales reports, allow for accurate cash management, provide digital receipts (very eco-friendly), allows for integration to occur and leaves plenty of space for endless marketing opportunities!
What is the difference between POS and EPOS?
Where EPOS stands for Electronic Point Of Sale, POS stands for only Point Of Sale. The key difference here is that EPOS systems operate purely online, where they can securely store your businesses data in the cloud, allowing for access to it from anywhere at any time. Whereas, POS would just be the basic exchange of goods and services.
What is the best accounting & EPOS software?
Accounting software and EPOS software are separate entities but with an myEPOS system, you can integrate with your chosen accounting software provider like Xero, Quickbooks or Sage seamlessly.
How does an EPOS system work?
An EPOS system connects to the internet and integrates with payment providers to process cash and credit/debit transactions. It also stores all of your data securely in the cloud so that you can access it anywhere and from any device.